HVAC Equipment Rental Sourcing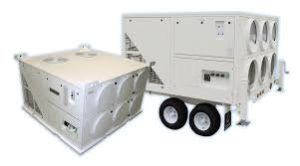 Sourcing HVAC equipment rental is easy with Alpha Energy Solutions. We are experts in HVAC and specialize in commercial heating, cooling, air and ventilation systems. Our clients can experience over 2,000 years of field experience combined with the help of our technicians. We handle both large and small jobs so there really isn't any situation that our technicians cannot handle when it comes to sourcing and servicing equipment for facilities.
Allow Alpha Energy Solutions to alleviate any headaches associated with navigating the complex world of HVAC equipment rental and other aspects of the heating and cooling realm. If you consider us as your prime source for equipment, we assure that you will be pleased with our quality, selection and service. We are capable of offering a broad selection of products to meet your requirements. As a leading supplier, we deal with all of the major manufacturers in the HVAC industry.
Your questions on HVAC equipment rental should never go unanswered. Rely on Alpha Energy Solutions  as we are trusted and capable.
Rental HVAC equipment can be helpful in a number of situations. Many different industries currently make use of rental equipment for short-term projects and temporary needs. Considering your timeline, budget and application, it is certain that you fan identify an equipment solution that will suit your specifications. Whether you are managing a work site or shelter, concert our other outdoor event, HVAC equipment rental is an economical solution that will providing cooling when necessary.
HVAC Equipment Rental Support Needs
Investing in rental equipment for cooling is beneficial however, it is often necessary to have your equipment maintained for excellent performance without interruption. Alpha Energy Solutions is not only an equipment provider but a service provider as well. We specialize in commercial equipment repair and service. Our technicians are also on-call 24/7 to handle requests for service which are of an urgent nature. Whether you have rented equipment for a short period time or a longer term, reach out to Alpha Energy Solutions for your maintenance and repair needs should they arise.