Mobile Cooling Experts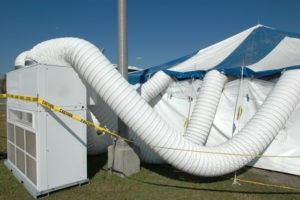 Mobile cooling is a worthwhile investment for short-term needs. Some applications that may employ cooling equipment include: outdoor events, festivals, emergency shelters, construction work sites and commercial projects. Alpha Energy Solutions is a supplier of portable cooling solutions for both industrial and commercial facilities. Renting your cooling equipment with an expert will deliver excellent results and the highest level of performance.
Alpha Energy Solutions will guide you in the selection process of mobile cooling equipment based on your specific requirements. There are many different manufacturers and models available however, Alpha Energy Solutions deals with all of the major brands. We source equipment from a wide distributor network and therefore can offer a great selection.
Whether you are in need of mobile cooling equipment for a project a few months down the line or for a more urgent requirement, contact Alpha Energy Solutions where our technicians have over 2,000 years of experience in the field, combined.
Mobile Cooling Equipment Service
Selecting equipment for temporary cooling should also depend on your budget as well as how it will be applied. You should always keep your costs in mind when choosing a unit or multiple units. Keeping the length of time for which you will have the unit in operation is something else that may have an impact on your expenses, not only for the equipment itself but for any additional resources that may be required in order for the machine to operate.
Part of maintaining the performance of your rental equipment is the service aspect. Even rental systems do require service to keep equipment running properly. If you need cooling for an urgent application, the last thing you want is for your system to go down. Imagine the impact that downtime might have on your operation or project. With our Preventative Maintenance Programs you can be proactive about caring for your equipment. Service is completely beneficial for systems, even rental units