Commercial Chiller Rental Expertise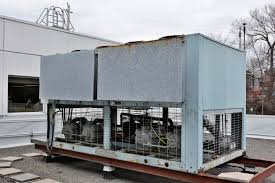 Alpha Energy Solutions specializes in chiller rental for commercial and industrial buildings. Whether your facility requires air-cooled or water-cooled chillers, we can help you identify a solutions that works well with your program of operation. Our company can supply needs for an extended period of time and also those projects which may be short-term.
Finding an ideal chiller rental is easy with the help of an experienced resource. Chillers are complex however considering your operation, they should be budget-friendly and deliver the results you desire.
Like most businesses, you may be looking for equipment that is energy-efficient thereby reducing your own carbon footprint. We can help. We source equipment through a very large distributor network and most importantly can offer you selection. Based on your needs and your budget, we can help you find an equipment solution that is not only effective but efficient in terms of energy usage as well.
Industrial Chiller Rental Supplies
Industrial facilities also make use of chillers for various applications that require cooling. Consider Alpha Energy Solutions for a specialized approach that holds your firm in mind. With over 2,000 years of experience in the field combined, we truly understand the heavy demands that are placed on chillers and other types of HVAC equipment in the framework of industry.
You may have questions about chiller rental options but you can be certain that Alpha Energy Solutions will have answers.
Beyond rental equipment, we can also provide parts supplies and service when you need it the most. Regardless of whether you need parts for minor repairs or service for seasonal updates, our technicians are on-call 24-hours a day and 7-days a week.
Maintenance on your chiller
As an option, we offer Preventative Maintenance Programs which can be used to keep your system's performance up to date. Ask about how our maintenance program can work for you. Contact us.