Expert Boiler Repair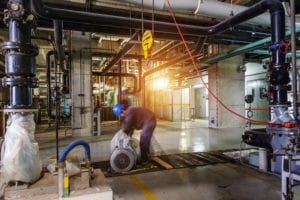 Contact Alpha Energy Solutions for expert boiler repair. Attempting to troubleshoot a boiler fix on your own is not recommended and should be left to an experienced technician. Our technicians have over 2,000 years of experienced in the field combined; we understand the fine details of boilers.
The technicians that handle boiler repair at Alpha Energy Solutions are capable. We handle boilers of all sizes and capacities. As a leader in HVAC, we specialize in commercial and industrial boiler systems which have greater demands that what would be commonly found in residential units. Due to the heavy load that boilers carry in such large facilities, working with an expert is the best course of action in the event of a repair issue.
We understand that buildings, offices and manufacturing facilities rely heavily on complex boiler systems. The systems are required to run constantly without interruption at the most critical times. When boiler repair is necessary, time is certainly of the essence. Obtaining service quickly is possible with Alpha Energy Solutions. Our technicians are on-call 24/7 to accept service calls with care.
Reliable Boiler Repair
Your boiler should be reliable and deliver heating for a number of reasons. A faulty boiler can slow productivity and make the operational environment uncomfortable. Trust your boiler repair to a name that you can trust. Alpha Energy Solutions is a reputable service provider with a vast range of expertise in HVAC. Allow our technicians to assess your boiler repair issue.
Signs that your boiler is in need of repair.
Boilers in commercial facilities should be monitored regularly for performance issues. Your equipment should be maintained often to ensure that it is doing its job above and beyond your expectations. Most importantly, a boiler should provide seamless heating without interference. When the boiler systems are not working correctly, there are some important things that you should keep an eye on.
If your boiler is making loud noises, leaking or lacking heat, contact a service technician right away. Our technicians are on-call and looking forward to assisting you with your boiler needs.