Commercial Boiler Service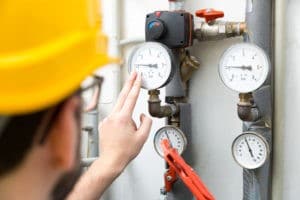 Boilers located inside of commercial centers require boiler service at regular intervals. Boilers are relied upon by establishments to provide heating in large spaces and therefore the demand is greater. Due to the fact that boilers are tasked with managing heavy requirements and many resources, they may experience performance issues from time to time.
Alpha Energy Solutions is capable of addressing boiler service needs for commercial buildings as well as industrial facilities. We understand the unique needs of such establishments. Our technicians are HVAC experts. Moreover, the service technicians at Alpha Energy Solutions deliver over 2,000 years of experience in the field, combined. Our expertise combined with our large network of distributors enables us to deliver quality service with care.
As specialists in HVAC including boiler service, Alpha Energy Solutions handles boilers of all different sizes and capacities. Before attempting to troubleshoot any repair issues on your own, contact an experienced technician at Alpha Energy Solutions; we can help.
Urgent Boiler Service
While boilers in commercial buildings may run for a long time without an issue, you can never truly expect when an urgent situation may happen. Rest assured in knowing that with Alpha Energy Solutions, our technicians are on-call. We understand that some of the most critical heating issues may happen outside of the typical operating hours, As a result, we are on-call 24/7 to handle service calls. It may be tempting to try and handle a repair issue on your own, but with Alpha Energy Solutions, you certainly do not have to. Trust an expert, rely on our technicians to evaluate your equipment and make the necessary recommendations for repair if needed.
When your boiler goes down, your business may experience serious issues. Broken boilers can lead to leaks, wasted resources, property damage and potential hazards. Having service conducted on your equipment will help you stay ahead of any potential issues and ensure that all of your components are working properly. Technicians can make minor adjustments to make sure that you are getting the most of your equipment while ensuring that it is efficient.