Top Commercial Chiller Rental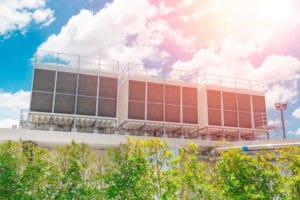 Finding commercial chiller rentals is easy with Alpha Energy Solutions. As an expert in HVAC and both industrial and commercial chillers, our knowledgable team of experts can help you locate a system that suits your applications and budget. Find out why Alpha Energy Solutions is a leader in chiller equipment.
There is no need to waste time searching online for commercial and industrial chillers when an expert is simply a phone call away. Alpha Energy Solutions specializes in chillers designed to carry a heavy load. We understand the demands of your operation and can deliver solutions which are tailored to your business.
Narrowing the large number of chiller models on the market down often requires an expert opinion. The equipment is complex and varies in size and application. Depending on your unique application for chiller rentals, more options will also be available in terms of features. Selecting the components will largely depend on what you demand from the equipment and also your budget.
Whether you need an air-cooled chiller or a water-cooled chiller, you will be pleased to know that Alpha Energy Solutions is capable of offering a wide selection of models. We work with all of the top manufacturer brands as a reputable supplier with an extensive history. With an impressive track record and having delivered industry-leading systems to facilities of all sizes, Alpha Energy Solutions is a company that you can rely on.
Commercial Chiller Rentals and Service Needs
Commercial chiller rentals do require regular service to stay up to date. Although chillers are very reliable machines, proper care will ensure that you get the most of your equipment. Due to the fact that your building depends on the chiller to provide uninterrupted cooling, conducting service extends the life of your systems and delivers the best performance outcomes.
Contact Alpha Energy Solutions to learn about our Preventative Maintenance Programs for your chiller equipment