Finding Chiller Rentals with Ease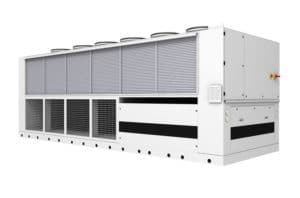 Investing in chiller rentals is a great way to enjoy the benefits of a cooling system with less commitment. Ideal for a number of cooling applications and relevant across multiple industries, chillers provide cooling in an efficient manner. Alpha Energy Solutions is your premier source for chiller rentals for all commercial and industrial applications.
Selecting the right options among chiller rentals available can be overwhelming if you are not familiar with their designs. In fact, there is no single type of chiller. There are air-cooled chillers and water-cooled chillers. Ultimately, the outcome is very similar, however, how each type of equipment processes matter differs.
Before deciding what type of chiller rentals are ideal for your project, you must first consider the application. How will your chiller be used? Does your project require an air-cooled or water-cooled chiller and if so, what other elements would you require to keep your systems running.
Chiller Rentals-Commercial Applications
Establishing a deployment window is a reasonable consideration which you should also keep in mind. Perhaps your chiller rentals will be used at a temporary job site? If this is the case, you most certainly will wish to confirm equipment availability. Sharing this information with your supplier will help you meet your need by dates. Alpha Energy Solutions can work with you to ensure your equipment is available for use within in a timely manner. Having access to a wide selection of brands through our distributor network enables us to offer you selection.
Getting support for your chiller rental is not difficult with Alpha Energy Solutions. Not only are we an equipment supplier but we are also a service provider. We can help you maintain your cooling equipment. Our technicians are on-call 24/7 to handle service calls. Moreover, we offer Preventative Maintenance Programs which guides you along in the upkeep of your rental equipment. Contact us to learn more about Preventative Maintenance Programs for your chiller.