Chiller Rental Equipment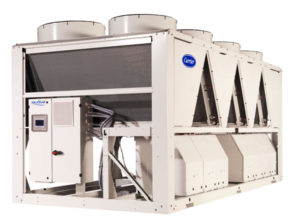 Chiller rental equipment is an appropriate option for industrial facilities and commercial settings. Moreover rental units are useful in situations that require emergency cooling. Regardless of whether you need an air-cooled or water-cooled chiller and no matter how urgent your requirement may be, Alpha Energy Solutions can supply the equipment that you need.
Ideally, chiller rental equipment should be light on your budget, easy to deploy and energy efficient. Due to the fact that applications vary, you will likely need access to a wide selection of options that may fit your requirement. Alpha Energy Solutions is capable of offering a quality selection of machines through our wide distributor network.
Chiller Rental Requirements
Due to the nature of facilities that make use of chillers, the equipment must be durable but also flexible in its application. Not all situations require a permanent fix and therefore rental equipment is an ideal solution for ever changing spaces.
When selecting a chiller rental, you should keep a few key points in mind to help you along with the entire process.
Consider how your chiller will be deployed and its application
What type of chiller will you need-air-cooled or water-cooled?
What resources are currently available to power your chiller?
Will you need additional connections to install your chiller rental?
What capacity chiller will you need?
What space is available to accommodate the placement of your chiller?
While it is commonly understood that chillers are tough pieces of equipment, it should be expected that they will eventually require maintenance and service due to frequent use. When choosing equipment for rental, consider additional maintenance and upkeep requirements and availability of such service. Alpha Energy Solutions also specializes in service of chillers and is available 24/7 to handle service calls.
Selection of a chiller can largely be customized to suit your specific application. With the help of an experienced supplier such as Alpha Energy Solutions, choosing a machine to fill your requirement will ease the process. Narrowing down the many aspects of chiller equipment does not need to be overwhelming by any means. Rely on a reputable supplier with over 2,000 years of experience, trust your cooling equipment needs to Alpha Energy Solutions, an expert in HVAC.