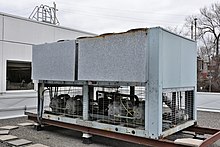 Get in touch with Alpha Energy Solutions if you are in the market for chiller rentals for your commercial or industrial facility. Choosing a chiller can be a tough decision due to the many options available. Having guidance toward your particular specification with a proven expert will make the entire process easier.
We have access to a wide selection of chiller rentals to suit your application. We deal with all of the major brands in HVAC. Because of a large distributor network, we can surely help you identify a piece or multiple pieces of equipment that will deliver excellent performance, comfort and productivity for your operations.
Technicians at Alpha Energy Solutions deliver over 2000 years of experience in the field and therefore we can handle all capacity units. Moreover, in addition to selection we can support your chiller rentals with reliable service. While your chillers are dependable, they can certainly benefit from maintenance and require upkeep for the most favorable outcomes.
In addition to practical solutions, you can also trust your chiller to Alpha Energy Solutions in the unexpected event of an emergency. Our service technicians are on-call 24/7 to provide responses to your service calls. With equipment support such as service and repair, you can feel confident in choosing Alpha Energy Solutions as your choice for commercial and industrial cooling equipment.
Do not hesitate to contact us if you encounter issues with your chiller. We can even help you stay ahead of potential problems with our unique Preventative Maintenance Programs. The plans allow you to know what is going on with your equipment. Most importantly, the preventative programs do just as they suggest, anticipating potential issues and addressing them with maintenance before they worsen. As a result, you are able to get the most out of your cooling equipment year-round.
No matter your budget plan, you can tailor a preventative upkeep strategy to fit your requirement. The programs offer  numerous advantages for customers to consist of system surveillance frequent upkeep. Ask about our Preventative Maintenance Programs for your cooling systems and chillers.