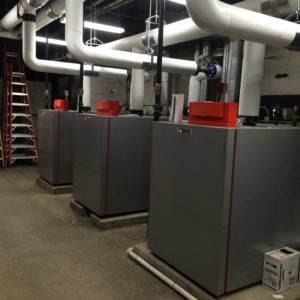 Commercial and industrial facilities rely on boilers to function properly at all times. When a machine is working, boiler service may be necessary. When in doubt, an experienced technician can diagnose any performance issues and determine whether or not service is needed. If you do require service for your boiler, you can rely on Alpha Energy Solutions as we are an expert in HVAC.
Ideally, boilers should operate smoothly and without interruption. Like any heavy machine, a boiler needs to be maintenanced to keep up with seasonal demands and energy consumption. Carefully monitoring your boiler will help you stay on top of issues that may potentially arise. Handling boiler service matters quickly will not only reduce down time but also save money. We understand that it is necessary to keep your operation running and know that your boilers play a very important role in your facility.
You never can anticipate when you may need service, however the technicians at Alpha Energy Solutions are on call 24-hours a day and 7-days a week for boiler service. Issues with boilers can arise at any time during the year, regardless of the season, day or night. If you need service on a weekend, it is a relief to know that someone will answer your call instead of leaving you waiting until the next business day. Time is of the essence when it comes to boiler repairs and every day that your systems are down, your business is being affected.
Here at Alpha Energy Solutions, we deal with a wide distributor network. Due to the network, we are able to acquire parts from all of the top brands in HVAC. There is no reason why any boiler service should be delayed due to parts. Obtaining parts quickly can help your technician get to work quickly in solving your repair issues.
While service is often a necessity, you can take preventative measures to ensure that your machinery is working properly. Moreover, you are capable of lowering the risk for mechanical breakdowns with preemptive activities. We offer Preventative Maintenance Programs which may be used for your boiler. One major benefit of the programs is that they are customizable so you do not have to include elements that you do not need. The programs offer system monitoring, status updates and performance reporting. Additionally, preventative screenings are also offered to help you stay on top of potential issues.