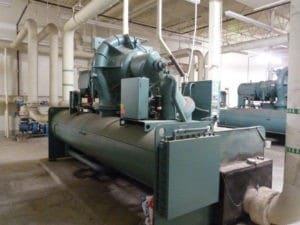 Commercial buildings and industrial facilities rely on chillers for a myriad of applications. Ultimately the machines perform to deliver cooling and if they are not working properly, chiller repair may be necessary. A chiller that is in need of repair must first be examined by a technician to determine what if anything may be cause for concern.
After a thorough diagnostic of a potential performance issue, chiller repair may be prescribed as the only solution. When it comes to business, repair is always more cost-effective than replacement and if you can extend the life-cycle of your machines, then repair is ideal. Contact a technician at Alpha Energy Solutions for help with possible repairs to your machinery.
Trust your chiller repair with a reputable company that also offers experience. Chillers are complex machines with many intricate parts. Troubleshooting possible repairs on your own is not recommended unless you are well-versed on the nuances of the cooling systems. To save yourself time and money, contacting a technician is a great path to managing repairs with fewer headaches.
If you are not sure whether or not you require chiller repair, there are a few things that you can do. First, assess the performance of your machine. If your equipment is making noises, or simply not cooling, then you should contact a technician. Describe what is happening with your machinery and schedule a call without delay.
Waiting to address potential challenges with your equipment may lead to further performance issues down the line. Also, responding quickly means that if you do require service, you can get your equipment back online sooner rather than later.
Minor repairs or maintenance may simply require parts. Acquiring parts for your chiller is not an issue with Alpha Energy Solutions. Due to the fact that we deal with all of the major brands, we can get parts without a hassle. You may refer to the product catalog for your equipment or contact a technician with experience to evaluate your systems.
Our technicians handle calls 24/7 so you can rest assured that you will receive a response on your service calls. We handle jobs of all sizes and equipment of various capacities. Moreover, we offer Preventative Maintenance Programs for your chiller. The programs can be customized for your unique needs while helping you stay ahead of performance issues. Ask about Preventative Maintenance Programs at Alpha Energy Solutions.