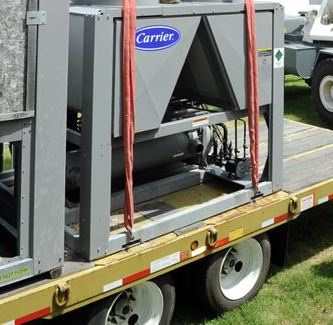 Sourcing a Chiller Rental
Alpha Energy Solutions specializes in HVAC systems including chiller rental. Renting a chiller is ideal if you are in the market for a short-term solution for cooling. Whether you are in the commercial or industrial sector, we can help you locate a chiller that will meet your specifications. We understand that a cooling system is a major investment and therefore can support your selection with the highest level of service.

A chiller is a complex machine tasked with performing a critical role in climate control, specifically cooling. The need for a chiller rental will vary across different industries however, there are trusted brands that you can rely on to deliver top tier performance within your budget. Due to the fact that chillers are rather complicated, it is always best to consult an experienced company when sourcing your equipment.

Selection is not an issue with Alpha Energy Solutions because we deal with all of the main manufacturer brands in the industry. We have a large distributor network which means that we can supply equipment of all sizes and for numerous applications. Moreover, we handle equipment of varied capacities so the size of your requirement really doesn't matter, it is totally possible to find a machine that will fit your project even if it is used to fill a short-term application.

Configuring a Chiller Rental
There are many options for chillers and doing research is one of the best ways to find a product. You can start your research online and go from there. You can also work with Alpha Energy Solutions to narrow down the vast selection of products available based on your specifications.

When you are searching for a chiller you should keep a couple of important factors in mind.

What will your chiller be used for?
What capacity do you require?
Do you have the energy sources available to support the chiller's performance
How long will you require the chiller
Where will the chiller be placed?
What additional support is there to maintain the chiller?
Trust your chiller rental to Alpha Energy Solutions, an expert in HVAC equipment and service. Contact us to learn about our chiller rental solutions.