Visitor Management Configurations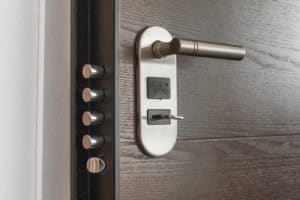 Taking control of who has access to your building is a critical piece of security administration. If you need to revamp your visitor management systems or expand on your current configuration, Contact Alpha Energy Solutions. When it comes to safety and profitability, securing access is a top priority. We can help you identify solutions that are best suited for your unique need. Moreover, we work with facilities of all sizes.
Hospitals, clinics, public offices, academic institutions and office buildings are just a few of the types of buildings that may require a visitor management system. Managing the people who enter your facilities is just one way to enable access control. Having the proper administration techniques in place will protect the people and things that are most important to your business.
Visitor Management Examples
Proper visitor management may include a number of systems which are integrated for the most efficient experience. For example, a person entering a building may have to check in with a security guard. Then, the same individual may have to register at a front desk. While some offices still use a paper registration sheet, others are moving into more advanced methods which include computerized registration forms. Computerized registration forms are ideal because they save time.
In some cases, managing visitors may require access badges or key fobs which are programed with specific data. The data included on a badge may include unique identifiers Visitor management tools such as key fobs and badges are not appropriate for people visiting a facility one time, but they are also great for people that frequent a building such as an employee. The benefit to having computerized technology is that access can be revoked and the badges can often be reprogrammed for future use.
As you expand your security program, consider the importance of integrated systems and managing visitors. Updating your system will reduce the time spent on managing and tracking guests. Moreover, with the right systems in places, you will experience less margin for error. Unfortunately with older methods of handling guests leave plenty of room for serious security breaches.
Alpha Energy Solutions can assist you with developing a highly-integrated system that works efficiently. Contact us to learn more about how we can help you find a configuration that is perfect for your business.