Find a Chiller Repair Technicians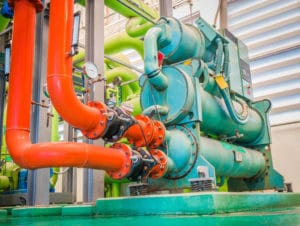 Is your chiller broken? If so, contact Alpha Energy Solutions for chiller repair. You should never attempt to repair a chiller on your own. The machines are far too complicated for  a novice and doing so could be dangerous. We always recommend contacting an experienced technician in HVAC. We specialize in all aspects of HVAC including chiller repairs.
You will know that your chiller is not functioning properly if it is not doing its job. A broken chiller will lead to lost productivity and at the end of the day lost profits. Moreover, a broke chiller may create unnecessary hazards which is why chiller repair issues should be addressed without delay.
Finding a technician to repair your chiller is not hard if you consider Alpha Energy Solutions as your number one source. We have over 2000 years of combined field experience and this is something that you will not find elsewhere. In addition, we have a broad distributor network. While this may not seem like a big deal, it is when it comes to getting you the parts that you need quickly.
You see, since your chiller repair must be done quickly to get your system back online, obtaining parts fast is critical. Because we are able to get parts quickly, we can shorten the turn-around time on your service call. Have you ever reached out to an HVAC provider and it's taken a long time for them to respond to your initial service call. The experience can be frustrating, especially when time is of the essence.
We handle service calls 24/7.
Chiller Repair Support
No one wants to deal with a broken chiller, but sometimes repairs are necessary. Any machine will experience issues simply because of wear over time. You can however, reduce the likelihood of breakdowns with preventative maintenance.
We can support your chiller repair needs with preventative maintenance plans. Our custom plans enable you to stay on top of your system year-round. Examples of items included with our preventative maintenance plans are system monitoring, seasonal maintenance and status reports. Contact us to learn more.