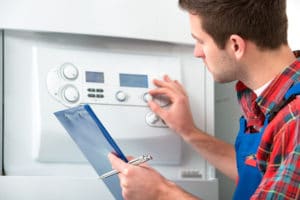 Is your boiler making strange noises? If so, you may need boiler service. When your boiler is not heating properly or making odd sounds, contact Alpha Energy Solutions. We are happy to provide our expertise as we have over 2000 years of field experience combined.
Broken boilers can cost you time and money. In addition, a boiler that is malfunctioning may cause property damage. In the event that you suspect you need boiler service, do not hesitate to contact a service technician.
Not ever boiler repair is considered an emergency, however if you do have an urgent need, we are here to help. Our technicians are on-call 24/7 to handle your service calls. Remember, if you hear or see anything out of the ordinary with your boiler, reach out for service as soon as possible. A broken boiler can make the environment uncomfortable, your water cold when it should be hot and waste valuable energy.
Finding reputable boiler service may seem like a daunting task. It does not have to be. Your service provider should be an expert. Not only should your technician be familiar with boiler components, but he or she should offer realistic solutions. As for Alpha Energy Solutions, there is no job too big or too small for our technicians. We can deliver a great amount of expertise and we are familiar with all of the major manufacturer brands. Since we have a strong distributor network, we can access the parts you need for boiler service quickly. Access to parts in a timely manner can make a huge difference when it comes to running a smooth operation. Unwanted interruptions in service will lead to lost time and productivity.
You can rest assured knowing that Alpha Energy Solutions will work hard to get your system back online. Even if you do not need emergency service, we can also provide preventative maintenance. Many people do not realize the importance of keeping your boiler up to date. Regular maintenance lessens the impact of minor complications and ensures the most efficient use of energy which saves you money in the long term.