Mobile Cooling to Suit Your Budget from Alpha Energy Solutions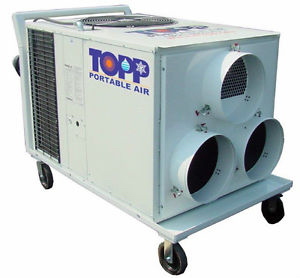 Not every climate control situation demands a permanent solution. Mobile Cooling systems are an ideal way to get the type of air you need for your specific application without a long-term commitment. Regardless of your temporary cooling need, Alpha Energy Solutions can deliver a system that fits your budget and application. Avoid the hassle of hunting around for the best portable cooling options and contact Alpha Energy Solutions for the best in quality, service, and flexibility.
Finding a Mobile Cooling system does not have to be a headache. Though there are many different options to choose from, Alpha Energy Solutions can assist with selecting a system that is perfect for your facility. It does not matter if you are needing a cooling system for an outdoor event, temporary work site, or industrial project, Alpha Energy Solutions has access to all of the top manufacturer brands. We back our products with over 2,000 years of combined industry expertise in the field. Our team can help you narrow down options from those with a capacity of 1 ton to 4,000 tons. There is no job too big or too small for Alpha Energy Solutions.
Once you have selected the best Mobile Cooling system, you should consider preventative maintenance to keep it running smoothly. Unexpected malfunctions can occur as cooling systems are complex machines with many parts and functions. Preventative Maintenance Plans from Alpha Energy Solutions will help you keep tabs on issues before they arise. Scheduled maintenance will ensure that the system is functioning properly, and status reports will keep you updated on the system.
If you do find that your system experiences a problem, Alpha Energy Solutions is on-call 24-hours a day, 7-days a week to provide service for its valuable customers. Emergency service technicians are available to lend their expertise in the event of a mechanical breakdown or urgent matter.