Industrial Boiler Service-Jobs of All Sizes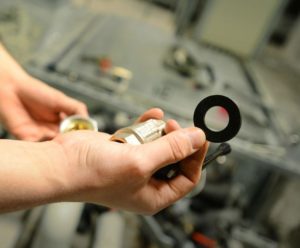 Alpha Energy Solutions specializes in boiler service for both commercial and industrial facilities. While boilers do vary in terms of design and processing, we are familiar with all types. In fact, our technicians have over 2000 years of field experience combined. Regardless of whether your boiler is high-pressure or low pressure, when it is time for service, you need a company that you can rely on.
A boiler is an essential part of your operation. We understand that you need it to deliver the best performance all of the time. From time to time however, it is simply a reality that you may experience a problem with your boiler system. In a commercial facility or industrial a broken boiler will affect production in cases where it is used for manufacturing. Boiler service is a necessity when your operation is impacted by unexpected interference.
While system malfunctions are to be expected, preventing breakdowns can be done to a large extend with regular maintenance. Our technician can maintenance your boiler to ensure that it is running to peak performance. Should you suspect that your boiler is malfunctioning, contact us.
Experience with Major Boiler Brands
Alpha Energy Solutions provides boiler service for all capacity units. Our experienced technicians are familiar with handling all of the major brands in boiler systems. From small adjustments to major repairs, you can certainly count on our technicians to deliver the highest level of service.
Emergency Service-On-Call
Our extensive capabilities include on-call service. In the event of an emergency, we handle calls 24/7 for commercial and industrial facilities. Time is of the essence when your operation is at risk for slowing down or stopping completely.
Access to Parts
Moreover, we have access to parts in the event that you do need repair, service or maintenance. As we deal with all of the top names in HVAC, we can access parts quickly through our expansive distributor network. As a result, our technicians can address your service calls quick and begin working on any repairs necessary.
Prevention
Regular maintenance is necessary to keep your system up to date. Alpha Energy Solutions offers our client's Preventative Maintenance Programs. The plans are an ideal investment because they extend the life of your boiler unit and keep it running smoothly. With regular maintenance, we can circumvent to a large extent potential issues before they become problematic for your operation.