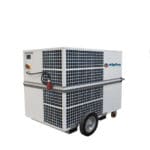 The search for mobile cooling machinery should not be difficult. With the help of an experienced company, you should be able to select a cooling system that is right for you. Mobile machines are idea for a number of purposes including short-term projects. Demands do vary but because of this, product selection is wide. If you happen to need a cooling system for a temporary project or short-term need, contact our team at Alpha Energy Solutions. We can certainly help you identify a system that will work for your project.
Believe it or not, mobile cooling can be used for so many applications. They are not only used for commercial facilities and industrial buildings but they can also be used for temporary work sites. Also, facilities that must be set up urgent reasons will find the need for mobile cooling systems.
Reducing the hassle involved with choosing a cooling product requires you to detail a few important factors. First, determine what type of situation requires the product. Then, consider how long you will need the product. What do you want the product to do? Once you have determined how the product will best fit your operation, you should consider size, placement and installation. Beyond installation, you should also think about service support if needed.
After your cooling system is installed and running for some period of time, you may notice wear. Regular use or overuse may lead to some parts needing repair. If you do need repair for your mobile cooling system, contact us at Alpha Energy Solutions.
If you are not sure if your system needs repair, there are a couple of signs to look out for. For example, if your unit is not cooling properly, you probably need repair. If the system is making any unusual sounds or simply will not function at all, you definitely need service. Service technicians at Alpha Energy Solutions are on-call 24/7 to handle service calls.
At Alpha Energy Solutions, we have over 2000 years of field experience combined. There simply is no job too big or too small when it comes to your cooling needs. We have access to all of the leading brands for parts and will certainly deliver quality and selection.