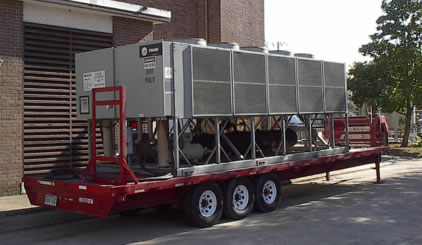 Chillers are an important investment for any commercial or industrial facility. Choosing the right system can offer many benefits including increased production. Although some applications whether commercial or industrial, require a permanent solution, Chiller Rentals can also be very effective solutions for temporary projects. Alpha Energy Solutions provides rental systems for a number of uses as a cost-effective way to meet the needs of growing industries.
If you find that a temporary chiller is in order, Alpha Energy Solutions is available throughout the year, to provide Chiller Rentals, no matter the size of the facility. As a leader in the heating and cooling industry, and bringing over 2,000 years of combined experience to the field, we have access to all of the major brands. Selecting just the right chiller can be tough, but working with an experienced technician from Alpha Energy Solutions will ensure that your navigation through chiller systems is an easy one.
Chiller Rentals delivered and installed by Alpha Energy Solutions are backed by quality and service excellence. Parts and service are just two of many specialties proudly offered by Alpha Energy Solutions. Should you find yourself needing parts or service for your rental, help is just a phone call away. Having access to so many brands enables Alpha Energy Solutions to reduce the wait time for parts and service. The team is available 24-7 to service customers.
Though chillers are highly effective cooling systems, from time to time, they may need regular maintenance to ensure optimal performance. Remember, even a rental system is an investment and unexpected repairs can bring about unwanted surprises. Prevention is the best way to ensure that your system is fully-functioning.
Alpha Energy Solutions offers custom Preventative Maintenance Plans tailored to meet your specifications. Your Preventative Maintenance Plan will provide monitoring, system updates, inspections, and seasonal maintenance.